Chanalyzer Pro with Cisco CleanAir
Visualize and Troubleshoot
Wi-Fi Interference with Chanalyzer Pro
Why Use Chanalyzer Pro for Troubleshooting?
Wi-Fi uses the same frequencies as other wireless electronics and appliances. When two devices transmit simultaneously on the same channel or frequency, their waves cancel each other out. The resulting network slowness or complete loss of connectivity is painfully obvious to users. A spectrum analyzer helps you find the areas where devices may be having collisions by measuring the amplitude of any device sharing frequencies with your Wi-Fi coverage. The only way to rule out non-Wi-Fi devices as the source of interference is by using spectrum analysis software. Chanalyzer helps you to solve Wi-Fi congestion issues in the 2.4 GHz and 5 GHz bands.
Color-Coded Spectrum Analysis
Real-Time Discovery and Analysis of all RF
Professional Report Generation
Robust Capture and Playback
Cisco CleanAir Remote Analysis*
*available only in Chanalyzer Pro with Cisco CleanAir
Error-Proof Your Wireless Approach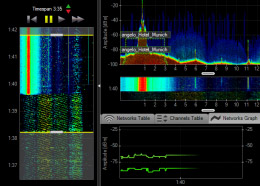 In the old days when wired networking was king, the first step in diagnosing issues was to grab your trusty cable tester. Chanalyzer Pro is your Wi-Fi "cable tester"

— an invaluable tool for troubleshooting wireless network issues.


With Chanalyzer Pro you are able to visualize how non-Wi-Fi transmitters and environmental Wi-Fi saturation affect your wireless networks. By integrating information from your Wi-Fi card with raw RF spectrum data pulled from an attached Wi-Spy, Chanalyzer Pro helps you defeat Wi-Fi Dead Zones once and for all.

Turning on a noisy airhorn in an office environment would be very disruptive to productivity – everyone would have to talk very loud, and communication wouldn't be very efficient.
Interference is the same way for your Wi-Fi. Chanalyzer Pro displays loud and constant transmitters as tall and red — this is how a loud airhorn would look in your office using spectrum analysis.
Finding interference-causing transmitters with Device Finder is as easy as playing "hot or cold." Simply drag across the density view, select the range where transmission is at high amplitude, and follow the tracking line below. If the line goes up, you're getting closer to the source.
DVR-Like Playback Controls for Multi-Taskers
Recording spectrum data is a key part of troubleshooting, but do you really have time to playback an entire capture at the same speed it was recorded? Chanalyzer's Waterfall Navigation feature means you don't have to.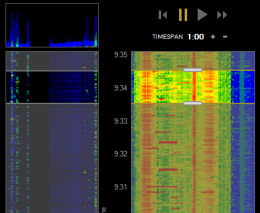 Similar to your television's DVR, Chanalyzer Pro captures the data to a temporary file to reduce the strain on your temporary memory. You can pause or rewind your data while Chanalyzer continues to record in the background.
Every graph and table in Chanalyzer adjusts itself to only display information from the time span selected in the Waterfall Navigation Pane.
The unified timeframe allows you to drill down on various spectrum events without reinitializing views — an excellent feature for mobile troubleshooting and documentation.
Deliver Your Report Before You Leave
Chanalyzer's Report Builder provides you with a simple way to explain RF interference and congestion issues to your end users.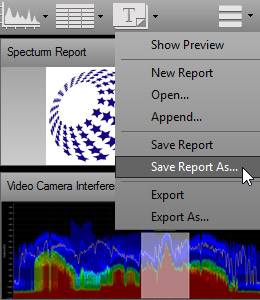 With just one click, you can add a snapshot of any image or table Chanalyzer displays, edit image size, create descriptions or use our explainer blocks. Yes, it is that quick.

Plus, Chanalyzer Pro allows you to add more accurate analysis with the waterfall navigation. Each report block features fully editable default text that helps you explain what you've seen to your end user – easily understand the complex conversations on Wi-Fi's Layer 1 and Layer 2, what you've done to find their issues, and what the interferers are.

Report Builder will help you:
Create a more accurate account of spectrum events
Build comparisons to highlight the impact from interference
Divide captures into sessions by location for accurate reporting
When you've completed your report, export it directly to PDF, or save to html, rtf, or clipboard.
Correctly Identify Interference
When Spectrum Analysis was just about interpreting a bouncing line, it was left to the engineers to solve complex interference problems. Chanalyzer Pro's addition and emphasis on color marks a paradigm shift in the process of interpreting spectrum events.
As RF data is aggregated, Chanalyzer Pro colors in the lines based on utilization over a selectable time range. When a shape is colored in red, for example, you can tell right away that a constant transmitter such as a cordless phone is in use. Conversely, blue colors are indicative of infrequent transmitters like bluetooth devices. When the "bouncing line" is combined with solid coloring, the result is a better representation of interference-causing transmitters, and an easier and more accurate assessment of their impact.
Chanalyzer Pro's waterfall creates an amplitude history of your entire capture. This feature makes analyzing your capture as simple as interpreting a seismometer. You'll know when an event occurred because you'll see the colors change abruptly from blue to red. When you combine Chanalyzer Pro with Wi-Spy DBx, tracking down interfering devices is as simple as playing a game of "hot-and-cold".
Chanalyzer Pro with Cisco CleanAir
Troubleshoot Interference from your Desk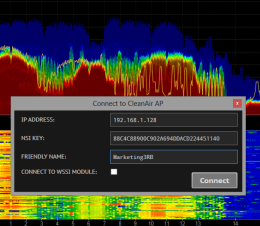 Chanalyzer Pro with Cisco CleanAir allows you to remotely visualize both 2.4 and 5 GHz wireless environments simultaneously from your WSSI Modules or access points in Local, Monitor, or SE-Connect modes.
When a problem arises in your network, load Chanalyzer to do a quick spot check of the RF environment. Simply load a CCF file from Cisco Prime, or connect using an IP address and NSI key. Your recent connections will be remembered for easier access later.
Document Interferers that Affect Air Quality
Simplify your Wi-Fi reporting with Chanalyzer Pro with CleanAir. The interferer's list stays consistent with Chanalyzer Pro's Waterfall Navigation; you can quickly jump back to any point in time to positively identify the source of your problems. The interfering devices list is filterable (positive and negative matching for device types) and it also includes adjustable duty cycle thresholds to only display interferers that may significantly impact wireless network.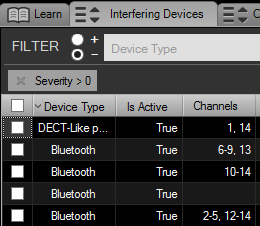 Chanalyzer Pro with Cisco CleanAir will also show you where it appears in the spectrum by drawing a spanning visual indicator in the main density view for all active devices. The more opaque the fill, the more impact your users are likely to experience.
Chanalyzer Pro
Mobile
Chanalyzer Pro with
Cisco CleanAir
Mobile
Everything
Packet + Spectrum
Bundle
Chanalyzer Pro with
Cisco CleanAir
Density Display
Generate A Report
Record & Save Your Session
Automatically Classify Devices
Navigate Recording with Waterfall View
See Utilization Visualized
Simultaneous Dual-Band Navigation
CleanAir Connect
Filterable Interferes List
Portable USB Spectrum Analyzer
Create Device Classifications
Locate Interference with Device Finder
Wi-Fi Network Overlays
Record Wi-Fi Network Data
Eye P.A. Packet Analysis Software
AirPCap Nx 802.11n Capture Interface
Introducing MetaCare Assurance Plan
The MetaCare Assurance Plan is a new software maintenance agreement that entitles you to obtain and legally install future software updates for MetaGeek software. Your plan is valid for all updates released during the period the software maintenance agreement is in effect. Updates range from bug fixes, minor feature updates, major enhancements, and all the other wonderful changes we have in store.
MetaCare is provided by MetaGeek directly, whether you purchased your software from MetaGeek or through an authorized MetaGeek Reseller. The agreement is by default an annual contract – longer terms are available for purchase and will guarantee you have the most current and feature-rich versions of the Wi-Fi Troubleshooting tools you need.
More information about MetaCare Assurance Plan, please visit
www.metageek.net/metacare
Software Requirements
OPERATING SYSTEM: Microsoft® Windows 8, 7, Vista, XP (SP3)
Mac OSX VIRTUALIZATION: VMware Fusion, Parallels
NOTE: Virtual machines require an external USB Wi-Fi adapter to view Wi-Fi information
DISPLAY RESOLUTION: 1024 x 600 (or better)
FRAMEWORK: .Net 3.5 framework (or better)
USB PORT: 1.1 (or better)
RAM: 4 GB

Cisco CleanAir® Mode
HARDWARE: Cisco CleanAir Enabled Access Point (for remote troubleshooting)
SUPPORTED: Cisco Aironet 1500, 2600, 3500, and 3600 Series

MetaGeek Wi-Spy Mode
HARDWARE: Wi-Spy 2.4x, Wi-Spy DBx, or Wi-Spy 900x
Built-In Wi-Fi card (802.11n recommended, a/ b/ g compatible)